I bought a travel book, Top 10 Andalusia, a long time ago, because I knew that one day when I will have the opportunity to travel to Spain, Andalusia will be the focus of my tour. Well, in 2018 we had the opportunity and although we also saw a few other places in Spain, Andalusia was the focus! Oh, how I would love to go back right now…
We had quite far to travel in one day, from Tarragona to our first stop in Andalusia, Granada. We took the train for a two-hour-plus trip to Valencia where we hired a car and took the 5-hour drive to Granada. As you can see this was quite a full day of traveling, with only here and there a stop to eat or fill up the car. We drove through beautiful olive groves stretching over hills and hills, just as far as the eye could see. When I googled this now, I learned that these trees cover an area of about 180 000 hectares. The olive groves of Andalusia constitute the largest structured forest created by man. We unfortunately did not stop for any of my own photographs.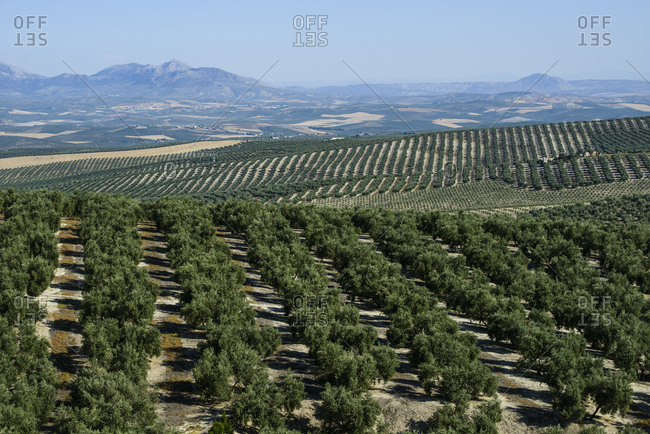 It is very difficult to say which place would be our favourite in Andalucia, but Granada was definitely very special. It was also our first stop in Andalucia. Jan was very impressed with my navigating when we arrived, it took us directly to the parking garage where we booked a place for the few days in Granada. Below are a few first impressions of Granada!
And then there was the Alhambra… You cannot visit Granada without a visit to the beautiful Alhambra! The gardens were also very special and also the view towards the city. It was extremely hot on this day, so you will see our red faces in the pictures! 🙂
Our little flat was on the street leading up to the Alhambra, beautiful setting, lots of local shops around and of course also lots of tourists! But we enjoyed every moment here:
There is too much to share about Andalucia, so I will rather do it in a few "episodes"!
Next up will be a post about a road trip through a section of the Sierra Nevada, and along the coast of Costa del Sol to Ronda.